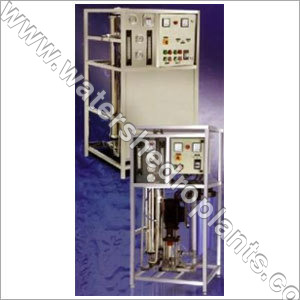 Industrial RO Water Treatment Plant
Product Description
Industrial RO Water Treatment Plant
As we are customer oriented company, we are highly committed to offer hi-tech Industrial RO Water Treatment Plant in the market. In order to meet the variegated needs of the customers, we install these water treatment plants in different capacities as per our client's requirements. Extensively used for the treatment of water, our Industrial RO Water Treatment Plant is well appreciated in the market for its features such as high operational fluency, impeccable performance and low maintenance cost.
Further Details:

Watershed Commercial & Industrial reverse osmosis systems are available from 100 LPH to 25000 LPH.
Compared to bottled water, the Watershed India industrial reverse osmosis systems not only purify but also offer reliability for potable drinking water. Reverse osmosis, also known as hyper filtration, is a filtration method that removes numerous types of large molecules and ions from solutions through applying an amount of pressure to the solution so that the solute is retained and pure solvent is allowed to pass through the industrial water filtration. This process of industrial reverse osmosis is beneficial to purify water and remove salts and other impurities. In addition, industrial reverse osmosis system can also reject bacteria, sugars, proteins, particles, dyes and any other molecular particles with molecular size greater than 0.0001 micron.

Since 2001, our mission has been to provide the best quality water purification and treatment systems with a complete line of reverse osmosis water treatment and industrial reverse osmosis systems, reverse osmosis water purification systems, seawater desalination, water makers, water filtration, water purification equipment, including oil separation and waste water treatment systems with quality accessories that are custom fabricated, designed and manufactured to suite a variety of industrial waste water treatment requirements. In addition to warehousing and distribution, we are noted for our strong technical services instrumentation, bio-pharmaceutical filtration. We offer the lowest prices and the best customer satisfaction in water treatment. We are here to assist with all of your specific customized applications. Our customers appreciate the care we take in bringing the best water possible to you. The Watershed India Industrial reverse osmosis systems provide the most advanced water treatment solutions.
Contact Us
101, Samrat Bhawan, Commercial Complex, Ranjit Nagar, Near Shadipur Metro Stn., New Delhi, Delhi, 110008, India
Phone :+918037268117